PORT WINE AWARDS & RATINGS
Sandeman Porto Tawny 50 Years Old
— 6 Accolades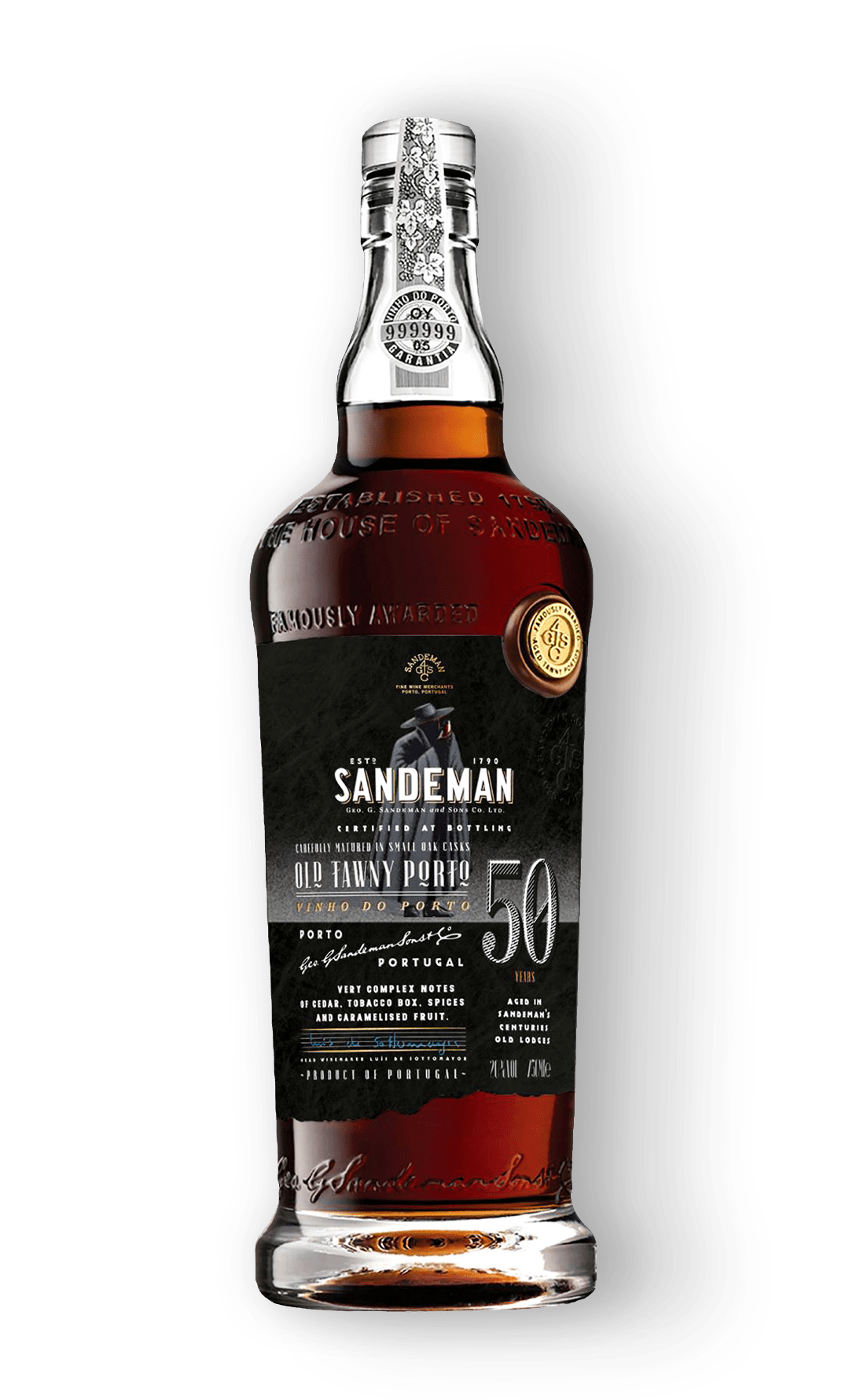 media publication

Matthew Juke's Articles

Comments

"(…) There is so much life and juiciness here, with clear red fruit notes present, it is remarkable. These refreshingly invigorating flavours of raspberry, cherry and loganberry intertwine with an ancient, deeply velvety, freshly yeasty and figgy core. (…) This is an amazingly complex wine, and unlike other Houses'wines, it is full of life."

media publication

Wine Enthusiast

Comments

Taking advantage of the newly created 50-year-old tawny category, this famous producer has launched a dense, intense Port. The wine's con­centration is immense, wood and old gold flavors almost incidental in an age-defying wine. Drink this fine wine now. Evaton, Inc. Editors' Choice. — R.V.

media publication

Wine Spectator

Comments

A bird of a different feather, this tawny Port features a high-pitched jasmine note along with a range of singed white peach, bitter almond, hazelnut husk, dried clementine and green fig flavors that glide through effortlessly, all carried by superfine acidity through a remarkably long and persistent finish that tilts to the dry side. Shows delicate sweetness, which lets the panoply of flavors play out unencumbered. Beautiful. Drink now. From Portugal. — J.M.

media publication

The Port Forum

Comments

A mid-brown honey colour; 30% opaque. A delicious nutty nose, hints of oxidation but none of the expected extreme vinagrinho characteristic of an old tawny. Rich, nutty and wonderfully full of dried fruit. Exquisite on the palate, elegant and balanced and full of dried citrus zest - complex and stunning. The complexity and finesse extend to the aftertaste and finish. This is a stunning wine. Rarely will you drink a better blended Port.

media publication

Jancis Robinson

Comments

Light golden-brown colour. Intense and highly complex aroma that includes dried fruits (unsulphured apricots and citrus peel) as well as bitter orange and walnuts and so much more. Mouth-filling gorgeousness that is both intensely sweet and perfectly balanced. The intensity you might expect from such an old wine but still so vibrant, with flavours of dried apricots, caramelised bitter orange and nuts. Concentrated and yet so fresh. You only need a small sip of this to last a very long time. Fabulous concentration and balance. A little bit salty on the finish but not excessively so (unlike some very old sherries).

Julia Harding MW

media publication

The Wine Detective

Comments

Sandeman is renowned for its Tawny Ports with an indication of age, namely its 10-, 20-, 30- and 40-Year-Old Aged Tawnies. It came as no surprise that the Port house has launched a Port from the new 50-Year-Old category. It is impressively elegant, fresh and precise. Altogether apiece with the rare Very Old Tawny Ports (two) which were also blended by head winemaker Luís Sottomayor...The blend was crafted from wines aged between 40–70 years old. The intention is to release 1,000-1,300 bottles of this limited edition top tier Tawny each year. A rich but bright tawny hue, with impressive clarity to the nose and palate given the length of time in wood. Indeed the wood is delicately worn, allowing the silky smooth apricot jelly (think apricot glazed patisserie), medlar/pear, dried redcurrant and orange and fennel seed infused crema catalana flavours to linger and shine. Lavender, cinnamon and cedar notes bring complexity and lift. Elegantly balanced, the finish is well-controlled, long and precise with a sappy fresh, palate-cleansing quality to the acidity.